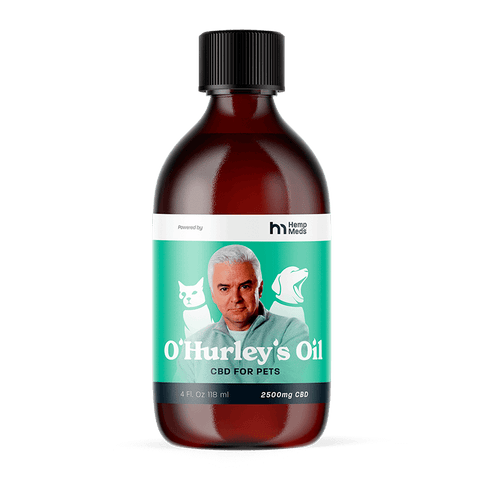 Hemp Meds
O'Hulrey's Oil CBD for Pets Liquid
Support your pet's wellbeing with our O'Hulrey's Oil CBD for Pets Liquid. This pet-friendly CBD product is designed to provide various health benefits for your furry friend. Whether it's to calm their nerves, support their joint health, or improve overall wellness, our CBD pet liquid can help. Learn more about this product, its benefits, and how it can enhance your pet's quality of life.
John O´Hurley is mostly known for his appearances in Seinfeld, hosting Family Feud among numerous other acting roles. As host of the National Dog Show since 2002, Mr O'Hurley's love for animals extends beyond advocating for rescued and animal rights. HempMeds is proud to be home of his CBD for Pets Brand: O´Hurley´s Oil

HempMeds is Proud to announce our collaboration with John O´Hurley to launch An exclusive new pet line Powered by Hempmeds:

O´Hurley´s Oil

A new pet line thought out by the Actor, Animal activist and your Trusted CBD Source
Testimonials
Thanks! - Ruth
This product is great. It has helped my anxious cat calm down. - Pete
Our dog is much calmer during thunderstorms after starting this CBD oil. - Nancy
My pet loves the taste, and it seems to help with her discomfort. - Mark
Noticeable improvement in my older dog's mobility. Highly recommend. - Sarah
Hemp Meds
SKU: 204010
HempMeds new branding is currently taking place. When placing an order, please consider the image on the website and packing could vary.
Certificate of Analysis O'Hurley's Oil CBD for Pets 2oz liquid 500mg