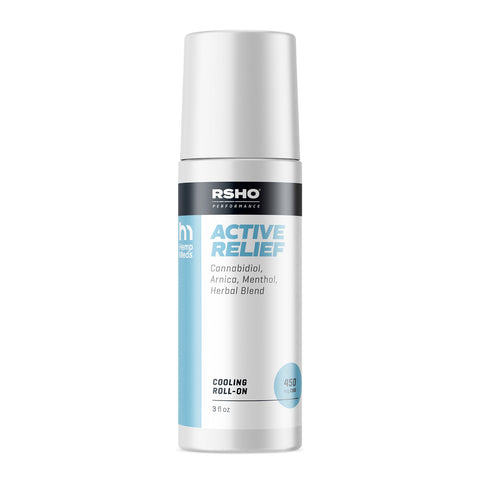 Hemp Meds
Active Relief Roll-On
Experience targeted relief with our Active Relief Roll-On. Infused with high-quality CBD, this roll-on is designed to provide quick and effective relief for sore muscles and joints. It's easy to apply, mess-free, and perfect for on-the-go use. Whether you're an athlete seeking post-workout recovery or someone dealing with routine aches, our Active Relief Roll-On offers a natural solution. Learn more about this product, its benefits, and how it can contribute to your wellness regimen.
Introducing the innovative HempMeds® Active Relief Cooling Roll-On, a first-of-its-kind CBD topical formulated with a muscle-soothing blend of Arnica and menthol. Use Active Relief Cooling Roll-On by HempMeds® alone for temporary muscle stiffness support, or maximize CBD's benefit by pairing it with our Body Balm and Body Oil.
First-Of-Its-Kind High-CBD (450 mg) Topical
Infused with Arnica to Soothe Tight and Tired Muscles
Provides Fast Cooling Natural Relief
Handy Roll-On Applicator
Apply Right to Tender Areas
Use the natural soothing benefits of CBD and Arnica with this new innovative formulation in HempMeds® Active Relief Cooling Roll-On. This mentholated CBD topical naturally supports stiffness and comfort, making it perfect for those seeking relief after a long and physically-strenuous day.
This new exciting formulation features a higher CBD concentration and includes Arnica, an herb grown mainly in Siberia and central Europe that is known for its natural soothing properties.
The lightweight 3-ounce bottle of HempMeds® Active Relief Cooling Roll-On is small enough to fit in your workout bag or in a medicine cabinet beside your other daily wellness products. Its roll-on top makes it easy to thoroughly apply the benefits of CBD and Arnica right to where they're needed.
HempMeds® Active Relief Cooling Roll-On is designed to be used by adults and children 12 years of age and older.
HempMeds® uses non-GMO certified hemp grown by families of farmers in the Netherlands. Using generational cultivation tactics, these farmers grow our flourishing plants naturally, without the use of pesticides, herbicides, and chemical fertilizers. Clean supercritical CO2 extraction, rather than potentially harmful solvents, is used to safely pull the CBD oil from the plant.
To ensure that it is safe and high-quality, the hemp CBD in HempMeds® Active Relief Roll-On is put through our stringent Triple Lab Testing® process, verifying that it is free of contaminants and contains a reliable cannabinoid content at three points during manufacturing.
Active Relief Cooling Roll-On is certified through the U.S. Hemp Authority, an important milestone that conveys to our customers that we take the proper steps to provide safe and high-quality CBD products.
Testimonials
A game-changer! Provides quick relief after a long run. It's now an essential part of my post-workout routine. - Jake
Great product. The scent is pleasant, not overpowering. It helps me with muscle soreness. - Sam
It's totally worth it, very high quality product. Highly recommended. - Margaret
This roll-on is amazing! I use it on my sore muscles after the gym, and it's been a great addition. I highly recommend this product. - Tina
After a week of use, I've noticed a significant improvement. It's been a great addition to my routine. - Lenny
Hemp Meds
SKU: 215055
Contains 450 mg of CBD from CBD Isolate
Made with Arnica, Menthol, and Licorice Root
Formulated for Temporary Muscle Stiffness Support
Designed for Athletes and Physically-Active Adults
Triple Lab Tested® to Ensure Quality
HempMeds new branding is currently taking place. When placing an order, please consider the image on the website and packing could vary.