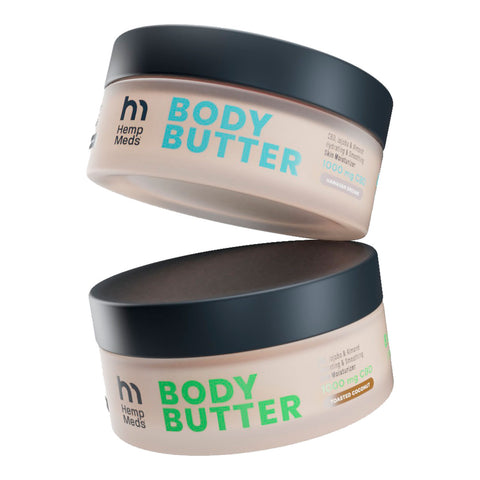 Hemp Meds
HempMeds Body Butter 1000mg
Nourish your skin with our HempMeds Body Butter, a luxurious cream infused with 1000mg of high-quality CBD. This body butter offers deep hydration, leaving your skin feeling soft, supple, and rejuvenated. It's a perfect addition to your skincare routine, offering the beneficial properties of CBD along with a rich blend of natural ingredients. Learn more about this product, its ingredients, and how it can enhance your skin's health.
An intensely hydrating body butter that rejuvenates dry skin.  Full of luxurious ingredients, this rich whipped cream sinks in for a soft, smooth non-greasy finish leaving skin looking softly radiant from head to toe.

Our Body Butters are carefully blended using premium grade CBD Isolate to create a nourishing body balm that will infuse your skin with hydration and nutrients.  Our long lasting formula leaves you with velvety soft skin.  Body butters will keep its creamy texture until it absorbs into your skin providing the nourishment your body needs.
Premium grade CBD Isolate used
Organically grown
Always cruelty free  – NEVER tested on Animals
Grown and formulated in the USA from all natural ingredients.
Lab Tested and Sustainably Farmed
Zero Additives
Premium quality sourced CBD Isolate contained within our body butters helps your skin retain as much moisture as possible so no matter how dry your skin is!

Not only does our body butter do wonders for moisturizing your skin but it's great for reducing chances of inflammations or red patches from forming as CBD helps to fight against these reactions naturally!


Helps you retain moisture up to 24 hours
Hydrates dry, brittle skin so there's no more cracking


Provides your body with the CBD nutrients it craves in a luxurious way
Testimonials
This body butter is simply divine. It hydrates my skin and has a lovely scent. - Jenny
I apply it before going to bed and wake up with softer skin. Love it! - Luisa
My hands are always dry, especially in winter. This product has been a real savior. It keeps my skin moisturized all day long. - Robert
Great product, worth it for the quality. - Tim
The best body butter I've used so far! It has a pleasant scent, is not too greasy, and really helps with dry skin. - Olivia
Hemp Meds
HempMeds new branding is currently taking place. When placing an order, please consider the image on the website and packing could vary.