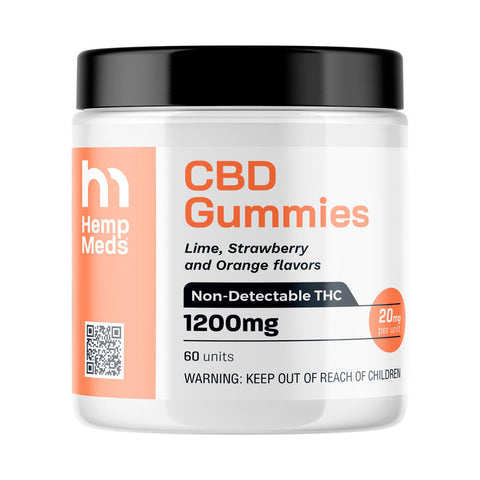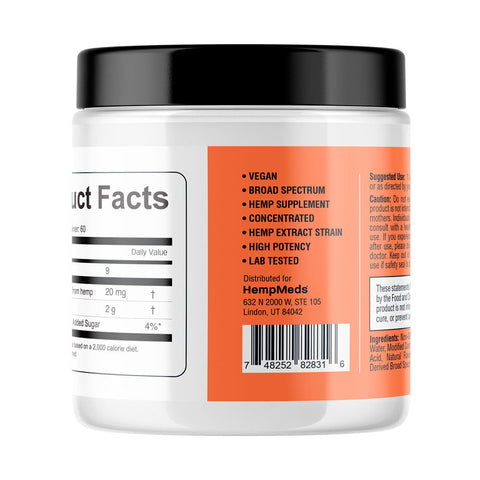 Hemp Meds
HempMeds CBD Gummies 1200mg
Savor the goodness of CBD with our HempMeds CBD Gummies. Each gummy is packed with 1200mg of high-quality CBD, offering a tasty and fun way to get your daily dose of CBD. Whether you're seeking stress relief, better sleep, or overall wellness, our CBD gummies are a convenient and enjoyable option. Find out more about these delicious gummies, their benefits, and how they can fit into your wellness routine.
HempMeds CBD gummies are gluten-free, vegan, and come in three natural flavors: Lime, Strawberry, and Orange. You will receive a 1200mg jar consisting of 60 pieces at 20mg per piece, these CBD gummies are an incredibly tasty, simple way to get your daily dose of CBD.

Proprietary Blend of Hemp Oil – We use Broad Spectrum oil where the THC has been removed but the most beneficial parts of the plant remain.  It works to supply multiple curative impacts to the entire body and is blended with quality hemp seed and MCT (coconut derivative)

Natural Flavors and Colors — Tasty flavors include Lime, Strawberry and Orange. Only quality natural ingredients are used to provide you with the best possible product.


All Natural, locally grown Ingredients, THC free, vegan friendly and MADE IN THE USA.
CBD isolate contains 99% pure CBD with no THC, terpenes, or other cannabinoids.
Assists in relievingichronic distress and nervousness
Helps in leading a healthy lifestyle
Made with all-natural, locally grown ingredients.
Promotes calm brain and noise sleep soundly through the nighttime
Helps to improve your well-being by reducing stress and nervousness
Lab Tested to ensure you are getting the highest quality product
All Natural Ingredients, THC free, vegan friendly and MADE IN THE USA.
Testimonials
The best CBD gummies I've ever tried. They taste amazing and give me a sense of calm. - Amelia
I'm a big fan of these! They help me relax and sleep better at night. - Aaron
Took these after a stressful day, and I felt more at ease. Will definitely repurchase. - Nicole
I was surprised by how effective these are! They also have a nice sweet flavor. - Paul
These gummies have become part of my daily routine. Love how they make me feel calm and centered. - Emma
Hemp Meds
SKU: 209202
HempMeds new branding is currently taking place. When placing an order, please consider the image on the website and packing could vary.