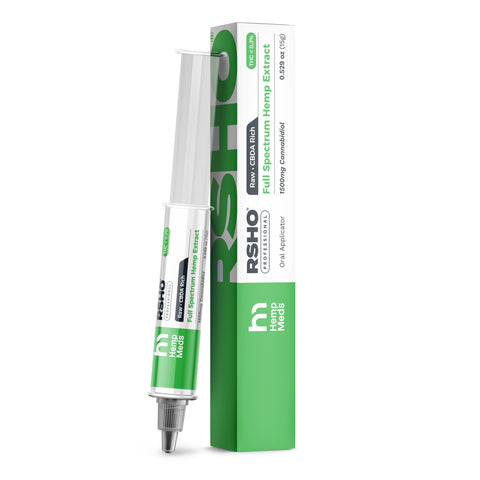 1,500mg CBD
Real Scientific Hemp Oil™ (RSHO) 10% CBD (1) 15g Green Label Tube
Experience the holistic benefits of our Real Scientific Hemp Oil (RSHO) Green Label Tube. This raw hemp oil is packed with 10% CBD, providing a full-spectrum solution to your wellness needs. Easy to use and portable, our Green Label Tube offers a convenient way to integrate CBD into your daily routine. Learn more about this product, its benefits, and how it can support your wellness journey.
The purest way to include our CBD hemp oil in your daily routine, our Real Scientific Hemp Oil™ Green Label is as close to the original plant as you can get in hemp supplements. Extracted using supercritical CO2 and Triple Lab Tested™, our hemp oil is an impeccably clean way to add CBD to your diet. Our RSHO™ is also naturally abundant in CBD, vitamins, minerals, essential fatty acids, terpenes, and other cannabinoids. Each Green Label tube contains 1500 mg of CBD pressed directly from the hemp plant's stalk and packaged in its raw form.

All sales are final. No refunds will be given.  Signature may be required for delivery.

Directions for Suggested Use:
Recommended dosage: .5g/.5ml twice daily, or consult your medical provider
Do not take if pregnant or lactating.
Store in a cool, dry, dark area.

1. Squeeze desired amount of RSHO™ on finger or back of spoon (Each ml is measured 1 -10 on the RSHO™ tube applicator)
2. Place RSHO™ under tongue and keep it there for 60-90 seconds
3. Swish in mouth, then swallow

RSHO™ is not water-soluble, however, you may also add RSHO™ to your favorite foods and beverages like smoothies and oatmeal.  RSHO™ is best administered at room temperature.  If you have difficulty squeezing RSHO™ out of the tube, place tube applicator in warm to hot water until tube is able to be easily squeezed.
Percentages may vary +/- 3% due to availability
Testimonials
I've seen improvement in my sleep quality since using this. Great, thanks. - Adam
Effective and easy to use. - Leah
The tube makes it easy to take on the go. It has been very helpful for me. - George
Really happy with the results. I feel more balanced and relaxed. Thank you! - Kylie
Excellent product, I use it every day. It has helped me manage my stress levels. - Rita
 Hemp Meds
SKU: RSGRA15
HempMeds new branding is currently taking place. When placing an order, please consider the image on the website and packing could vary.