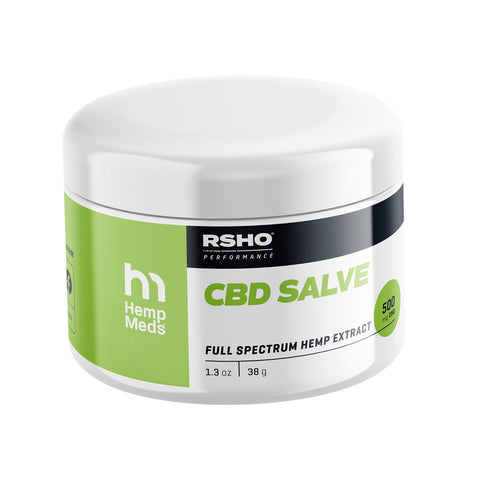 RSHOHempOils
RSHO® 1.3OZ CBD SALVE (500MG CBD)
Nourish and hydrate dry, worn, tired areas of your body, from muscles and joints to rough elbows and cracked cuticles with our Real Scientific Hemp Oil® (RSHO®) salve. Each 1.3-ounce jar of RSHO® Salve contains 500 mg of CBD, essential oils, and our unique herbal blend to revitalize your body and replenish critical resources lost throughout the day. Designed for whole-body wellness, our topically applied salve can be used daily to address age spots, wrinkles, dry skin, and even muscle discomfort.
From dry skin, troubled skin, and chapped lips to muscle discomfort and replenishing your body's critical resources diminished from the demands of everyday life, RSHO® CBD Salve provides all-encompassing, whole-body wellness. Each 1.3 oz. jar contains 500 mg of CBD from natural, sustainable hemp oil.
Ingredients:
Natural Wax Jelly, Sunflower Butter, Beeswax, Jojoba Butter, Candelilla, Rice Bran, Cetyl Esters, Emulsifying wax, Herbal Blend: [Camphora (Camphor Tree) Essential Oil, Moutan (Tree Peony), Salvia Miltiorrhiza (Red Sage), Morus Alba (Mulberry Leaf), Panax Red (Ginseng Root), Di Gu Pi (Lycium Bark), Fang Feng (Silver Root), Zingiber Officinale (Ginger Root), Cinnamomum Zeylancium (Cinnamon Essential Oil)], Hemp Extract (Cannabis Sativa)
Hemp Meds
SKU: 215065
HempMeds new branding is currently taking place. When placing an order, please consider the image on the website and packing could vary.