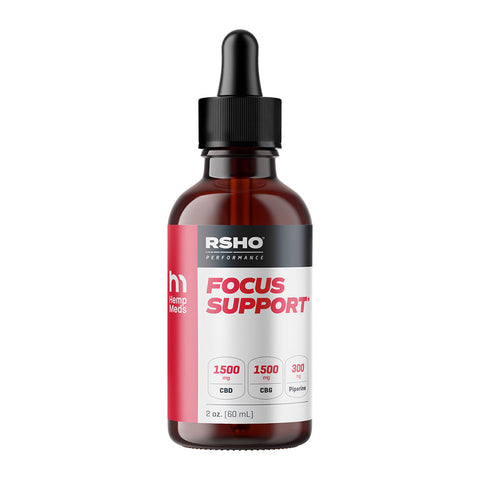 Hemp Meds
RSHO Focus Support – CBD+CBG (1500mg CBD)
Boost your focus and productivity with our RSHO Focus Support CBD+CBG. This unique blend combines CBD and CBG, known for their potential cognitive benefits. With 1500mg of CBD, our Focus Support product offers a natural solution to improve concentration and mental clarity. Learn more about this product, its benefits, and how it can support your cognitive function.
Trouble focusing? Too much distraction? To help you get on track with your everyday duties, our RSHO® Focus Support combines the well-known quality CBD to his building block: Cannabigerol, or CBG! With a plus from piperine, a natural alkaloid found in pepper that works as a bioavailability enhancer, boosting your cannabinoid supply throughout the day.
Testimonials
This product really helps me during the workday. For those reasons, I'm in! - Kevin
I have noticed a significant improvement in my focus since starting this. - Linda
This has been great for improving my productivity. I feel more focused and energized. - Paul
I was skeptical at first, but it really works! I've been able to concentrate better at work. - Mary
This CBD product has been a game-changer for my workday focus. Highly recommend. - Jane
Hemp Meds
SKU: 203307
HempMeds new branding is currently taking place. When placing an order, please consider the image on the website and packing could vary.